1. What Cotton Balls are?
Also known as cotton ball light, cotton lights or cotton balls, are hand-made miniature lap sets made in Thailand and exported all over the world. Colorful cotton balls after installing on chain of lights glow majestically, creating charming atmosphere in your surrounding. Each cotton ball is hand-made; thus, some they may vary in size and facture.
2. Available sizes: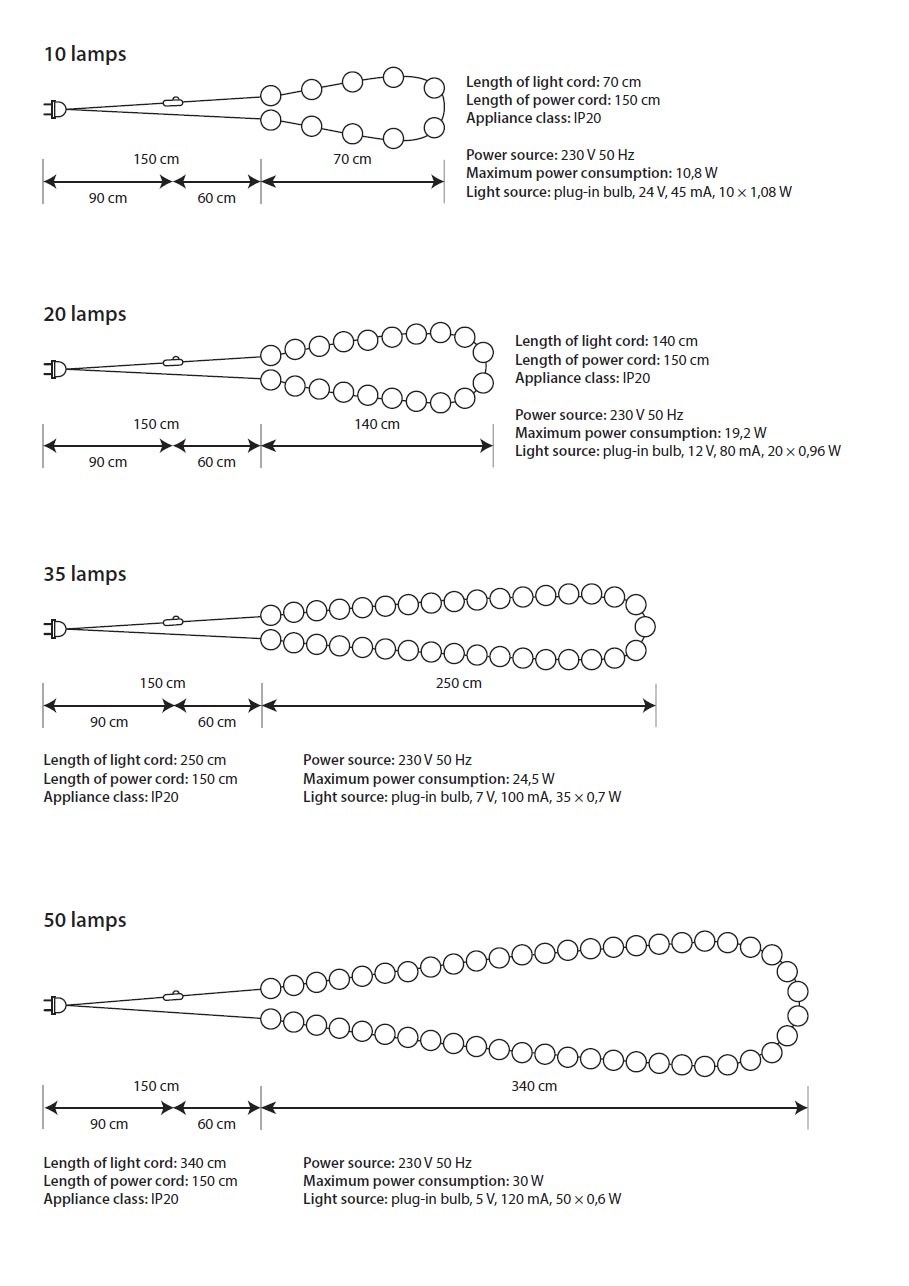 3. Packaging

Ordered sets are packed in aesthetical boxes, suitable as gifts or presents. Each set is a complete composition of selected cotton balls, chain of lights in a given size and an assembly manual.

Our Cotton Fairy Lights sets:
4. How is it shipped?
Boxes with lamps are packed in bulk boxes of thick cardboard and taped with our logo and warning stickers. If your package looks different - for example, is appended another tape, you must open the package and check if the content is not damaged. If so, please fill in the damage report with the courier.
5. Assambly?
Ordered sets will arrive to you unassembled – cotton balls and the chain are packed separately. Why? Because it is great fun to compose your own colorful cotton ball set all by yourself :) Assembly process is really easy, exactly as seen in the pictures below.
6. How to do it correctly?
1) Before you begin assembling your Cotton Fairy Lights set, you need to equip yourself with a pair of scissors. Each cotton ball has a small cut which needs to be enlarged, so a lamp would fit in.
2) The cut needs to be approx. 1 cm in diameter. The cut is dependent on its initial size, since each ball is hand-made, some may have smaller or bigger cuts.
3) This is how a properly cut cotton ball should look like. The hardest part is behind us :)
4) Now we have to slide the lamp into the cut we have just made. This is where the magic begins!
5) Insert the lamp into the ball confidently. If the cut happens to be too small, just enlarge it a little bit more.
6) The lamp should go all the way into the cotton ball.
7) Only the power cord should be hanging out from the cotton ball.
8) This is how a properly assembled Cotton Fairly Lights set looks like.
9) All done :)
7. Burned out lamp – what now?
Easy! Just replace it with a new one. Each set comes with 5 spare lamps. They are tiny, so be careful not to lose them. Put them in a safe place where they will be waiting to revitalize your chain once it goes off.
8. Power consumption
We are frequently asked about power consumption of our Cotton Fairy Lights sets. It is minimal!Below you will find how much power each set uses:
"10" lamps – each lamp consumes 0.80 W (the whole set consumes 8.4 W)

"20" lamps – each lamp consumes 0.84 W (the whole set consumes 16.8 W)

"35" lamps – each lamp consumes 0.78 W (the whole set consumes 27.3 W)

"50" lamps – each lamp consumes 0.62 W (the whole set consumes 31.2 W)
For instance: a set consisting of 20 Cotton Fairy Lights, glowing 8 hours a day throughout the whole year will consume approx. 10$ of energy.
DECLARATION OF COMPATIBILITY

9. Broken set – what now?
Fear not! If your set is still under warranty, send us an e-mail with your order ID or other proof of purchase and payment from our shop. Then you can send us your broken chain and we will fix it or send you a new one as soon as possible :) If your warranty is void, contact us anyway and we will help you bring back your lights to their finest form, so you can still enjoy the glow of their lights.